Ferocious waves caused of 7 hectares of rice fields in Tempek Babakan, Subak Sidayu, Takmung Village, Banjarangkan, Klungkung, flooded by the sea.
Three-metre waves crashing the rice paddies are feared will result in farmers ' rice crops damaged and die. The information compiled, high waves have already occurred since Tuesday (24/7), with a height up to 3 metres. Rice farmers in the Subak Sidayu, Tempek Babakan, it is near the beach until the outbreak was particularly affected by the waves. Until Wednesday, at least 7 hectares of rice fields were still flooded due to sea waves.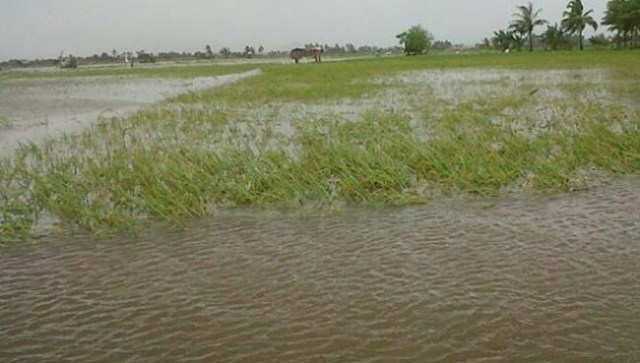 I Nyoman Mudita, as Perbekel Village Takmung mengiyakan over the condition. He said, this latter waves are indeed quite high, but yesterday's height was up to Wednesday 3 metres and flooded rice field area to Subak Sidayu, Tempek Babakan. PADI growing dipersawahan it was 1-1.5 month, because submerged sea water then tananam rice it will die.
Ironically the farmers just stay waiting for the crops only. Because submerged sea water because of extreme waves then rice would the yellowing, the solution should be planted.
Agricultural land in areas of the water about 10 hectares, covering an area of 7 hectares of submerged sea water due to the extreme waves. In addition, the rice plant of demplot rice from Kodim 1610/Klungkung acres 30 are also submerged. Whereas the age of planting age aged 2 months. Farmers and village around perangkar can not do much because it concerns the natural factors of the disaster.
On the other hand, high Waves also carry the sand to shore up to close the Tukad loloan Labak Nongan. Water that inundated that already form a mini Lake covering an area of one hectare. Mudita appealed to the related Department to drop heavy equipment to open the closed loloan.
High waves also occur on the coast include the ports of Tribuana Kusamba, district, the village of Dawan, Klungkung. As a result, the port in the morning could not operate. So the would-be passengers who wish to use the services of the port undo yourself for travel.